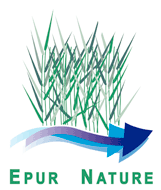 http://www.ecobird.fr/
Epur Nature: Pioneers in reed bed filters
CONVINCED that nature can play a major role in the regular purification cycle of wastewaters,
Epur Nature developed and popularised a purification process based on reed-planted filters in France.
.

Our goal: offer communities, industries and individuals reliable, economic, environmentally-friendly solutions that respond as completely as possible to their current and future needs.

Our approach: a major R&D program supported by pilots and full scale projects. The research partners are Cemagref, the SINT engineering company and the Nantes École des Mines, just to name a few.

Our outreach: three major agencies and a partnership arrangement cover the whole country.

Having successfully popularised the system throughout France we are preparing to take it abroad.

OSEO EXCELLENCE has distinguished Epur Nature for his management and his will to increase to be One of the 2000 members of Oséo Excellence 2011. http://www.excellence.oseo.fr/

Epur Nature is a member of Ea Eco Entreprise,Regional Clusters for Innovation and Social Responsible Economic Development (P.R.I.D.E.S) : http://www.ea-ecoentreprises.com/
In an ever-more complex world, we want to introduce pertinent, permanent, economic wastewater treatment methods.
We believe that corporate wealth depends on the human and professional qualities of the employees.

We are responsible for providing an environment that facilitates the development of all employees' individual and collective qualities.
Eight of our co-workers were hired after a rotating work-and-school program.

An organisation focused on:

QUALITY → "product" and "system"
SAFETY→ of people and installations
ENVIRONMENT → ISO 14001 to limit the impact of our activities, from design to implementation.
Multiple resources in the service units of a single company. 

R&D:
A development laboratory
Study of sands and special filtering materials.
Developing new processes and depositing patents.

A pilot site to size and test new granulate

Studies:

Sizing the station.
Calculations: hydraulics, excavation and construction
Plans and technical documentation.

Operations:

Watersealing
Automation
Equipment
Worksite monitoring

After-sales-service:

Diagnostic and distance monitoring of station performance
Preventive and remedial maintenance program, calm waters contract
Assistance with operation to treat mud from activated sludge and individual on-site sanitation installations

Quality, Safety, Environment

Reduce our impact on the environment
Manage environmental constraints in the work area
Monitor and control quality during design and production
The spirit of a team that is more than a team.

Participatory, cross-cutting management that enrols the resources of each and every employee to serve the clients. 
A foresighted skill-based management plan has been applied since 2006 and structures the company around its activities.
It is rounded out by special operational services.

Accident prevention at the workplace is our main concern and has led to special measures to be applied on the road and to eco-driving.

Our agencies:

"South-east" Head Office : 24 employees
"Sint Epur" agency : 7 employees
"South-west" agency : 7 employees 


The cast


Our company relies on the knowledge and experience of three essential players in designing and constructing the wastewater treatment plants by reed bed filters:
the experience in construction and public works of Mr Christian Pietri, a public works manager for the last 25 years,
the experience in project design of Mr Vincent Leboeuf, an agronomics engineer,
the research and experimentation of Mr Dirk Esser, engineer, scientist, creator of the process now known as Phragmifiltre®,the Bi-filtre planté®.
Experience and skills

The success of our projects is based on our respect for simple rules, applied since the company was born.
In studies

Sizing rules are inspired by Cemagref research expressed mainly in the following three documents ( in French ):

Cahier FNDAE 22
CCTP type des filtres plantés de roseaux
Guide macrophytes

The R&D service builds on these rules, drawing on feedback from our experience in building over 650 plants, all still operational.

Example 1 - our criteria for choosing sands for the second stage are stricter than those of Cemagref. 
Example 2 - we feed the second stage more slowly than the pace usually recommended.

The Studies Service designs each project with technical and economic optimisation in mind.

Example 1- 3D modelling is used to ensure balance during excavation between the clearing and banking operations and thus reduces or even avoids the need to remove or add material. 
Example 2 - our Bi-filtre planté® process often works without a sewage pumping station, unlike the traditional piled up two-stages system.


The worksite


Our projects are run by four experienced works managers who have carried out dozens of such projects.

With the experience of 600 installations, we have encountered most of the problems connected to planted filter bed treatments, especially connected to excavating terrains made difficult by rocks, groundwater,unstable lands and complex access.

Example - a filter is not installed in the same manner in calcareous rock and in basalt rock.

We have developed a network of local public works enterprises that have thorough knowledge of the terrain and the environment and work with us on our studies and offers.